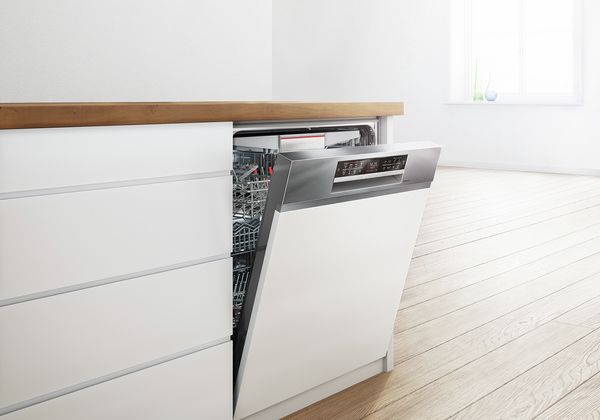 Want to connect your dishwasher yourself?
If you are sure you are able to do so, you must consider the following areas:
1. Checking the delivery
2. Set up
3. Drainage connection
4. Drinking water connection
5. Electrical connection
Please see the description below.
Delivery
Your dishwasher will have been thoroughly tested at its production site to ensure it works correctly. As such, there may be small flecks of water remaining. They will disappear after the first wash.
Set up
Determine the required installation dimensions from the installation instructions. Position the appliance so that it is level using the adjustable feet, ensuring it stands stably.
Under-counter and integrated devices which will later be used as a stand-alone appliance must be secured against tipping over by, for example, screwing them to the wall or installing an uninterrupted work surface which is screwed to the adjacent cabinets.
The dishwasher can be easily incorporated between wooden or plastic walls in a kitchenette.
Drainage connection
You can find the necessary steps for connecting your dishwasher in the installation instructions. If necessary, fit a siphon with a discharge nozzle.
Connect the drainage hose to the siphon's discharge nozzle using the supplied parts. Ensure that the drain hose is not kinked, squashed or tangled and that there is no cap in the system preventing the discharge of waste water.
Drinking water connection
Connect the drinking water connection to the water line using the provided parts and according to the installation instructions. Ensure that the drinking water connection is not kinked, squashed or tangled.
If the appliance is replaced, then a new water inlet pipe must always be used.
Water pressure: min. 0.05 MPa (0.5 bar), max. 1 MPa (10 bar).
If water pressure is high: Turn on pressure reduction valve.
Flow rate: min. 10 litres/minute
Water temperature: cold water.
If water is warm: max. temperature 60°C.
Electrical connection
Please only connect the dishwasher to AC voltage at a range between 220 V to 240 V and 50 Hz or 60 Hz at a properly installed wall socket with a protective earth conductor. For the required fuse protection, see rating plate 9J.
The power socket must be near to the appliance and must remain freely accessible after installation. If the plug is not accessible after installation, an all-pole disconnecting device with a contact opening of at least 3 mm must be used at the installation site in order to comply with the relevant safety regulations.
Changes to your connection may only be carried out by specialists.
An extension to the network connection cable may only be obtained from Customer Service.
If using a residual current circuit breaker, only a type designated may be used, as only these comply with regulations.
The appliance is equipped with a water safety system. Ensure that this is only operational when the current is flowing.
If you still have any questions or would rather have a professional connect the dishwasher, then please contact Customer Service. We will be happy to help.